This is the period of the pretty apples, and you have no excuses to make this a super delicious as Lunetoile love to share with us ca pretty
pie Norman
.
but I think you, like me, you want the recipe for this sublime pie nomad, so I will soon deliver you
Preparation: 20 minutes Cooking time: 35 minutes Resting time: 2 hours Serves 6 to 8 people
Ingredients:
Pastry with almonds:
180g flour
1 pinch salt
20 g almond powder
50g sugar
1 packet vanilla sugar
80g butter
1oeuf
1 tbsp.
coffee
vanilla extract
Filling:
3 apples
2 eggs
80 g sugar
2 packet of vanilla sugar
40 g almond powder
20 cl of cream
Preparation:
The pastry with almonds:
In a bowl, pour the flour, salt, ground almonds, sugar,
vanilla
sugar and mix with your fingertips. Make a well and add the diced butter, sandblasted fingertips for a coarse sand.
Add egg and vanilla extract, kneading until the dough homogène.Former a ball and refrigerate for 2 hours. (I have
immediately
spread, filled into the mold and refrigerate the time
to
garnish).
Roll the dough between two sheets
of
greaseproof paper, fill a
pie plate
or a circle
pie,
prick the bottom with a fork and refrigerate. Preheat oven to 190 ° C.
Topping:
Bleach in a bowl the eggs, sugar and vanilla sugar with an electric mixer, add the ground almonds and cream. Mix well.
Remove the pastry, place the apple
slices,
press down well. Add the mixture over the apples. Bake for 30 to 40 minutes.
Sprinkle with icing sugar.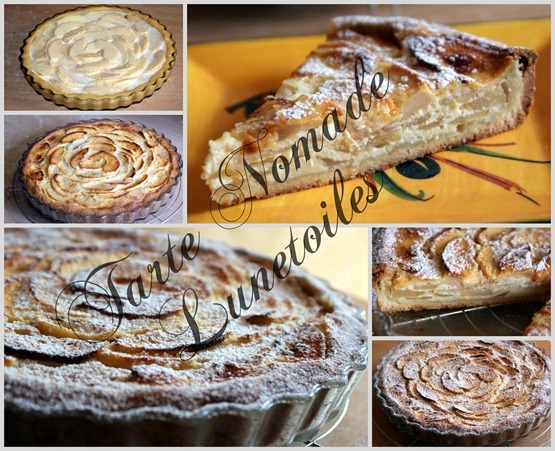 thank you for your visits.